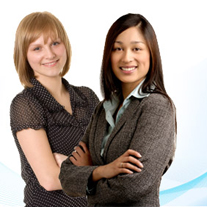 Prime Genetics is continually searching for quality egg donors of all races and genetic characteristics. Apply today and a fertility specialist will contact you soon! Prime Genetics strictly complies with ASRM guidelines on egg donor compensation. Most egg donors are compensated between $5,000-$7,000 for their time, inconvenience, discomfort and other related services. ASRM guidelines require justification for compensation paid in excess of $10,000.
The egg donor may miss several days of work for medical exams, travel, consultation and egg retrieval.
Egg donors must be responsible, attractive, healthy, non-smokers, emotionally stable, and bright. Most egg donors fall within the age range of 21-32 years, but Prime Genetics has, in certain circumstances, accepted potential donors as young as 20 years and as old as 33 years into their egg donor program. Please read the Egg Donation Process document for more detailed information about egg donation.
It is ultimately the goal of Prime Genetics to assist the intended parents, the egg donor and the IVF physician to maintain a smooth and coordinated process from the selection of the egg donor to the ultimate removal of the eggs from the egg donor.